Charli D'Amelio Breaks up with Lil Huddy
Charli and Lil Huddy announced break up on their social media.
"It hurts me to say this, but we've decided that this is what's best for both of us. We are still close friends and I would not change that for anything!" Charli wrote in an Instagram story. "I'm sorry I waited so long to tell you all. I wanted to take the time to process it for myself. Breakups are tough for anyone, so I'd really rather not talk about it anymore."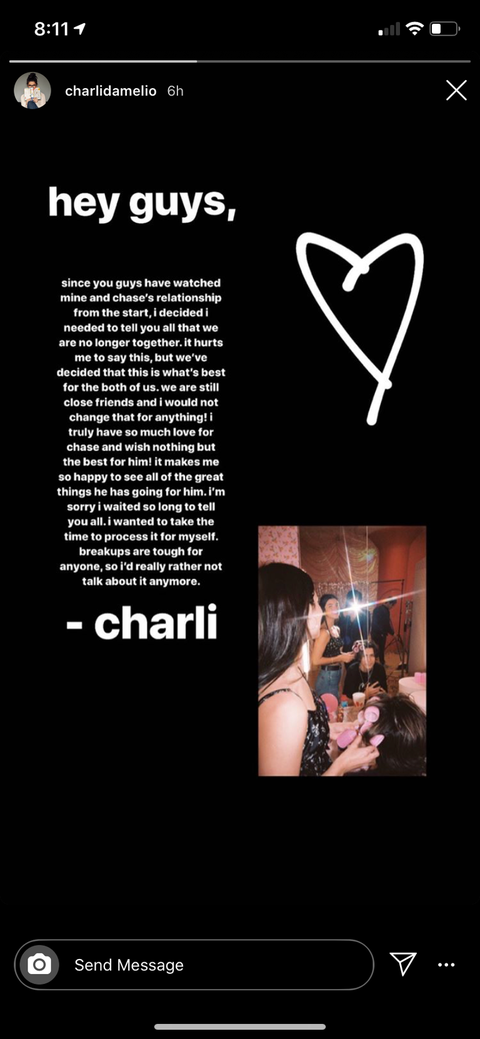 INSTAGRAM
Chase's post was very similar to Charli's. "Charli is such an amazing person and I am so beyond grateful and blessed to have spent the time I spent with her," he wrote. "We will always be friends and she will always hold a special place in my hear for the rest of my life. We are sorry it's taken so long to come forward, but this was something we wanted to process privately first."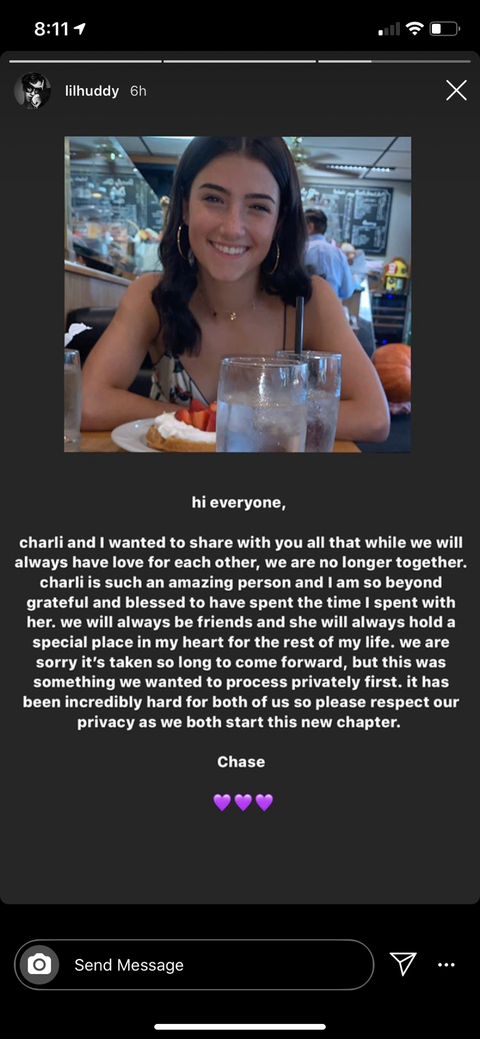 INSTAGRAM
March 20, 2020

Just as it seemed like things were finally going well for Charli and Lil Huddy, everything got really complicated. Members of another TikTok group, the Sway House, are claiming that Lil Huddy cheated on Charli.
Sway House member, Josh Richard is saying that his girlfriend, fellow TikToker Nessa Barret, has been receiving explicit DMs and pictures from Lil Huddy. In response, Josh and his friend Bryce Hall made a diss track about Lil Huddy called, "Still Softish" where they call Lil Huddy out for talking to other girls despite being with Charli.
Lil Huddy seems mostly unbothered by the whole thing, simply tweeting that he predicted a diss track was going to be made about him this year. Charli, meanwhile, hasn't said anything about the song and it's unclear how this will affect Lil Huddy and Charli's relationship.
March 2020
As of right now, Charli and Chase seem to be happily dating. They continue to make epic TikToks together and leave relationship-y comments on each other's 'grams.
February 19, 2020
In an Entertainment Tonight interview, Chase revealed all the deets we'd been waiting for. Chase said that while their relationship is totally exclusive, they "don't want to put a label on it yet."
After gushing about their first kiss together and how special Charli is, he admitted the two hadn't said "I love you" yet because he wanted to take things slow.
He also said they'd had been unofficially together for about a month and a half, which means they'd probably been exclusive since late December.
February 14, 2020
Though we all knew it anyways, Charli and Chase finally made things Instagram-official. They both posted sweet Valentine's Day tributes to each other.
January 29, 2020
Despite Charli saying she's not dating anyone, a few weeks later, Chase 'grammed this extremely romantic carousel of photos and captioned it, "can't take my eyes off of you."
January 3, 2020
In an Instagram Live, Charli finally addressed her relationship (or friendship?) with Chase: "No I'm not dating anyone right now. I'm allowed to just take things slow."
December 31, 2019
TikToker Madison Lewis posted a video of a New Year's Eve party, and fans immediately noticed that Charli and Chase were kissing in the background (!!!). More proof of their relationship!
December 30, 2019
The two teased fans with "date night" Instagram stories and even got caught holding hands at Target, but nothing was official.
December 21, 2019
Charli posted this cute couple-y pic of the two on Instagram, but without any explanation. Fans weren't sure if they were just friends or something more.
December 19, 2019
Hype House posted their first ever video on TikTok. The group was officially created by Chase and fellow TikToker, Thomas Petrou.
November 2019
In the fall of last year, Chase and Charli started teaming up for TikToks together. Fans noticed that they had an ~undeniable~ chemistry.
July 2019
Before Charli, Chase actually dated a different TikToker: Cynthia Parker. After dating for only three months, in July, Chase announced on Twitter that they broke up.
Chase tweeted, "love the gal to death but things just haven't been working out." And in response, Cynthia wrote, "puts me in the worst pain not being able to call you mine anymore."
me n cynthia are no longer together.
love the gal to death but things just haven't been working out. i hope y'all understand.14.9K9:08 PM – Jul 18, 2019Twitter Ads info and privacy